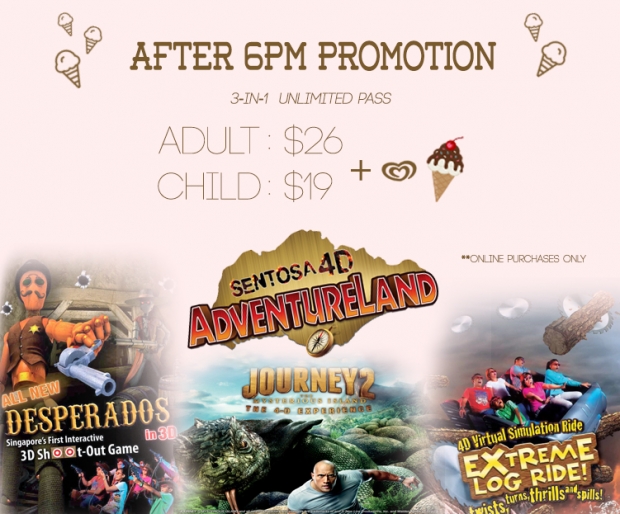 Sentosa 4D AdventureLand 4D One Day Adventure Pass After 6pm Admission and Walls Ice Cream

If you are looking for the perfect way to end a long day or are interested in beating the heat, then purchase of the Sentosa 4D AdventureLand After 6pm Admission Pass, is the perfect option for you. With this special promotion, theme park goers can enjoy each of the three 4D interactive adventures, while beating the mid-day crowds and high temperatures. Those interested in purchasing this After 6pm Admission Pass will be met with impressive prices as well as a special and highly delectable inclusive serving of Wall's Ice Cream at any time after entry into the Sentosa 4D AdventureLand theme park.

For the One Day Adventure Pass After 6pm Admission, theme park attendees can purchase this pass at S$26 for an adult and S$19 for a child. This special promotion is available for online purchase only, so do not forget to take your special pass before arrival to the Sentosa 4D AdventureLand Park!

In addition to the delicious helping of ice cream that we are sure will tickle your taste buds as you wonder through our beautiful and state of the art 4D interactive park, you can look forward to experiencing each of the wonderful 4D interactive adventures that we have to offer here at Sentosa 4D AdventureLand. You can excitedly look forward to an interactive 4D movie experience as you journey alongside Sean and his stepfather on the mysterious and captivating, mythical and enchanting island that is filled with so many twists and turns that we promise will leave you thrilled and exhilarated, only begging for more.

We will make sure you feel like you are right along for the ride as our special smells and misters will splash you with sensation, unlike any other 4D movie experience you have had before. After journeying with these two, you can look think about participating in our high stakes Desperados 4D interactive shoot out experience as you travel through the rough terrain that is the wild Midwest. Compete for the honorary title of Sheriff as you aim and shoot to survive the wild lands.

Finish off the evening by joining other park goers in the Extreme Log Ride – an interactive 4D roller coaster that takes you on a mesmerizing journey through the Himalamazon.

With the 4D One Day After 6pm Admission Adventure Pass, we are sure you will have the stimulating, adventure-filled experience that you have been waiting for! The only real question is…which 4D adventure will you choose first?!

TYPE OF TICKETS

Adult, Adult with S$5 (UP:$10) top up to enjoy Pirates
Child, Child with S$5 (UP:$10) top to enjoy Pirates
Now you can do a S$10 top-up to enjoy our special feature ride – PIRATES

Terms & Conditions:
This special promotion package is only for on-line purchases.
This e-ticket confirmation is valid for 60 days from date of purchase.
Please print and present the confirmation letter at Sentosa 4D AdventureLand Ticketing Counter.
Last admission to all 3 attractions is at 8.15pm.
Sentosa Island admission and transportation charges apply.
This e-ticket confirmation is non-refundable and void if altered.
Extension of validity is not allowed.