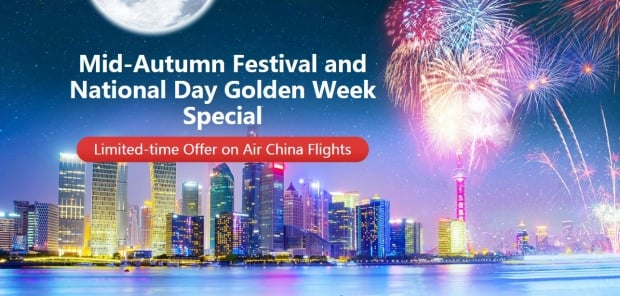 Limited-time Offer on Air China Flights
Save 10% on fares all routes from Singapore to mainland China!

Enter promotion code 'CNSAVE'

Rules:
Book online at www.airchina.sg
Booking Period: 24/09/2018 - 01/10/2018.
Travel Period: 25/09/2018 – 31/03/2019.
Black-out Period Apply:06/10/2018 - 08/10/2018; 15/01/2019 - 24/02/2019 (Outbound flight travel out from Singapore) 25/09/2018 - 05/10/2018;15/01/2019 - 24/02/2019 (Inbound flight travel to Singapore).
Applicable Flights:Air China operated flights originating from Singapore to China, One-way and round-trip flights. Code share flights not applicable.
Qualifying Cabins:All Business(J\C\D\Z), Premium Economy(G\E) and Economy cabins(Y\B\M\U\H\Q\V\W\S\T\L) qualify for this promotion.
Change of flight dates / Refund:Please refer to the fares rules based on the booking class. The value of this Promotion Code is non-refundable.
This promotion is applicable for children tickets.
Some of special fares are not eligible for this discount policy.
Check out Air China for more details about this offer and to book your seats now!