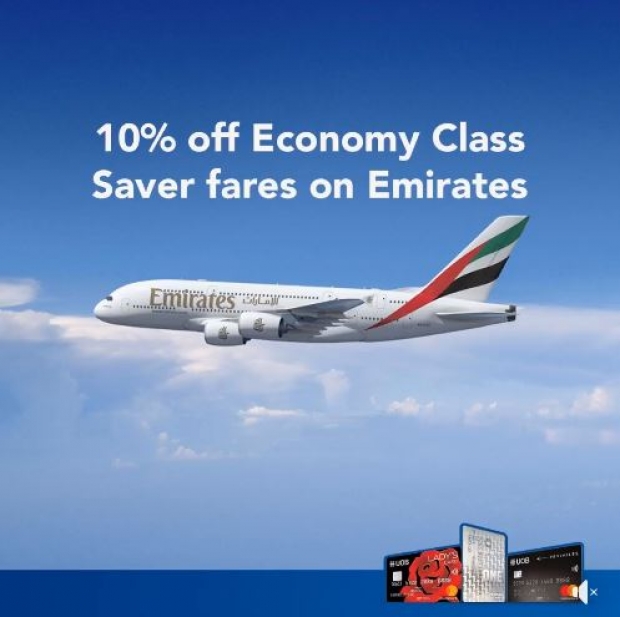 UOB Special Offer to all Emirates operated destinations- take advantage of our special seven day exclusive offer for UOB card members. Book using promo code SGUOB16 to enjoy greater savings. Promotion ends 25 September 2018.

UOB seven day exclusive offer - Enjoy an additional 5% saving* (on top of UOB regular offer) on Saver fares in Economy Class to all Emirates operated destinations.
UOB regular offer entitles you to a 5% saving* on Saver fares and a 10% saving* on Flex and Flex Plus fares in both Economy Class and Business Class.

Book a return Economy Class ticket to your favourite destinations:
Dubai from SGD 569
Australia from SGD 579
France from SGD 1089
United Kingdom from SGD 1099
Italy from SGD 1169

Note: Airfares are inclusive of taxes and surcharges and are subject to currency fluctuation. The advertised fares are per person. Seats are subject to availability. Price subject to changes. Fares correct as of 23 August 2018.

Terms and conditions
Offer is only valid for UOB credit/debit cardholders. All bookings must be made online using promo code SGUOB16
Offer is valid for purchase of return tickets originating from Singapore to all Emirates-operated destinations, including Qantas-operated flights promoted by Emirates.
Sales period for UOB Seven Day Exclusive Offer: until 25 September 2018.
Sales period for regular offer: until 31 December 2018.
Travel period for UOB Seven Day Exclusive Offer: 26 September to 31 March 2019.
Travel period for regular offer: until 31 March 2019.
No further discount is applicable on Special fares.
UOB Seven Day Exclusive Offer is only applicable for Economy Class booked on Saver fare.
UOB Regular Offer is valid on Economy Class and Business Class only.
Valid for departures from Singapore Only.
Payment must be made online during the booking process using only UOB credit/debit cards.
Promotion is not applicable for JCB or China Union Pay Card
Discount valid on airfare only. All fares stated are after discount. Fuel surcharge, applicable government and airport taxes and levies are not discounted.
All flight sectors must be confirmed prior to ticketing.
Amendment and cancellation penalties may apply for date changes/rerouting and will vary depending on destination and class of travel. Check 'Fare Conditions' from an online quote to view these and other applicable fare conditions.
Not valid with any other promotions unless stated otherwise.
Travel Blackout dates may apply.
Please contact Emirates at 6622 1770 for further enquiries.
Check out Emirates for more details about this offer and to book your seats now!