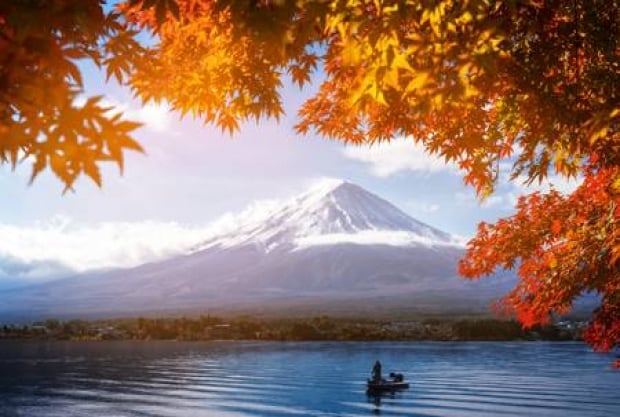 Enjoy up to S$250 off fares to Japan

S$250 off Business Class ticket purchases
Booking period: 22 October 2018 to 7 November 2018
Travel Period: 22 October 2018 till 28 February 2019
Destinations: JAL online destinations in Japan

• To qualify for the Offers, a flight booking must be made on zuji.com.sg during the Promotion Period using a Singapore-issued HSBC payment card.
• The Offer shall apply on bookings to all destinations and the flight component must meet the following eligibility requirements: Return booking that departs and arrives in Singapore.
• The Offer cannot be applied to one-way or multi-city (open-jaw) bookings.
• A limited number of coupons are available for redemption on a first-come, first-served basis.
• For each booking, only one coupon code can be used, and the discount can be enjoyed once only.

• Use the following coupon code to enjoy your exclusive offer: BIZPROMHSBCJAL

S$100 off Premium Economy ticket purchases
Booking period: 22 October 2018 to 7 November 2018
Travel Period: 22 October 2018 till 28 February 2019
Destinations: JAL online destinations in Japan

• To qualify for the Offers, a flight booking must be made on zuji.com.sg during the Promotion Period using a Singapore-issued HSBC payment card.
• The Offer shall apply on bookings to all destinations and the flight component must meet the following eligibility requirements: Return booking that departs and arrives in Singapore.
• The Offer cannot be applied to one-way or multi-city (open-jaw) bookings.
• A limited number of coupons are available for redemption on a first-come, first-served basis.
• For each booking, only one coupon code can be used, and the discount can be enjoyed once only.

• Use the following coupon code to enjoy your exclusive offer:​ PEYPROMHSBCJAL

S$30 off Economy class ticket purchases
Booking period: 22 October 2018 to 7 November 2018
Travel Period: 22 October 2018 till 28 February 2019
Destinations: JAL online destinations in Japan

• To qualify for the Offers, a flight booking must be made on zuji.com.sg during the Promotion Period using a Singapore-issued HSBC payment card.
• The Offer shall apply on bookings to all destinations and the flight component must meet the following eligibility requirements: Return booking that departs and arrives in Singapore.
• The Offer cannot be applied to one-way or multi-city (open-jaw) bookings.
• A limited number of coupons are available for redemption on a first-come, first-served basis.
• For each booking, only one coupon code can be used, and the discount can be enjoyed once only.

• Use the following coupon code to enjoy your exclusive offer: EYPROMHSBCJAL
Terms & Conditions
This promotion is not valid for payments/booking transactions made with any vouchers/eVouchers, i.e. ZUJI eVouchers, ZUJI travel vouchers, etc.
This Coupon Code cannot be used with another Coupon Code.
Using the coupon codes on bookings made using non-eligible payment cards will result in the booking being charged the coupon discount amount together with any other carrier-imposed change fees and/or penalties.
In the event that another promotion on zuji.com.sg offers a higher discount within the same period, for the same product, with the same promotion criteria, the higher discount will be applied to the booking.
In the event of any cancellation and/or amendment, i.You will be charged the relevant fee(s) as indicated in the booking terms and conditions;ii.The saving value will not be refunded.
By completing/confirming a purchase/booking, you acknowledged the acceptance of all related terms and conditions governing the Promotion and holiday bookings.
ZUJI will not entertain any claims or adjustments via other discounts or savings promotions offered by ZUJI or its partners prior to, or after the launch of this Promotion.
ZUJI is not responsible for booking requests received after the Promotion Deadline as a consequence of telephone or Internet service delays, interruptions, failures or overloads.
ZUJI at its sole discretion reserves the right to modify the terms and conditions from time to time and/or cancel this Promotion without prior notice.
The decision of ZUJI on all matters, queries or disputes, concerning the Promotion shall be final.
A customer who holds a HSBC credit card (except HSBC USD card, HSBC Corporate card, and HSBC Debit card) issued by HSBC Bank (Singapore) Limited ("HSBC") in Singapore (such HSBC credit card, a "Card") as a credit cardholder and whose credit card account is in good standing with HSBC over the entire Promotional Period and at the time of fulfilment (as determined by HSBC at its discretion) and who fulfils these terms and conditions (such customer, a "Cardholder") shall be eligible to participate in the promotion ("Promotion").
Other terms and conditions apply, please refer to the merchant for more details.
HSBC is not the supplier of and accepts no liability for the goods and services provided by the Merchant involved in this Promotion.
The Merchant and HSBC reserve the right to vary any of these terms and conditions, or to withdraw this Promotion, at any time in their discretion without prior notice.
All information is accurate as at time of publishing or posting online.
Check out HSBC Card Promotion for more details about this offer and to see all deals up for grab!