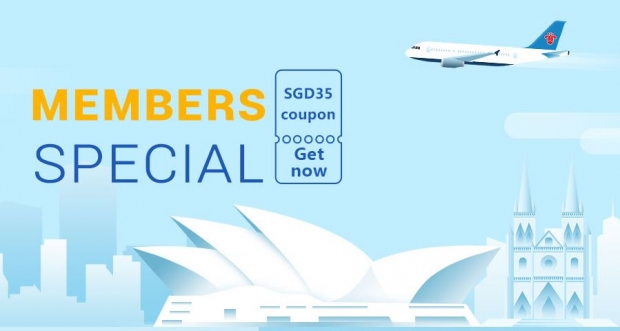 Members Special!

The members special Sale is now on! Get coupon now for SGD35 off!
Don't miss the chance to save on your dream trip.

Terms & conditions:
1. Promotion period: 24 November 2018 - 30 November 2018
2. Coupon validity: 24 November 2018 - 30 November 2018
3. Travel dates: 24 November 2018 - 31 May 2019
4. This coupon can only be redeemed by the sky pearl member who collects it.
5. This coupon can only be used when purchasing a ticket directly from the China Southern Airlines Singapore website.
6. This SGD35 coupon can only be used when purchasing an international flight of SGD175 value or above from China Southern Airlines (excluding taxes and fees).
7. The SGD35 coupon will be sent directly to the members account after collection. Please login in for more details.
8. One passenger can only use one coupon for one order. Each coupon can be used only once.
9. A coupon used for an unpaid order remains usable during validity after the order is canceled.
10. Coupons only apply to international flights operated by China Southern Airlines.
11. In case of flight refunds, if a coupon has been used to book the flight, the refund amount will be the ticket cost minus the value of the coupon.
12. Once used once, the coupon becomes immediately invalid for use again. In the case of any international flight ticket refunds, the same coupon may not be used to make another purchase (whether the refunded ticket is voluntary or involuntary).
13. Any flight tickets which are paid by using a coupon can only be changed or refunded via the China Southern Airlines hotline +86 20 95539 or email rfd @csair.com.

Check out China Southern Airlines for more details about this offer and to book your seats now!