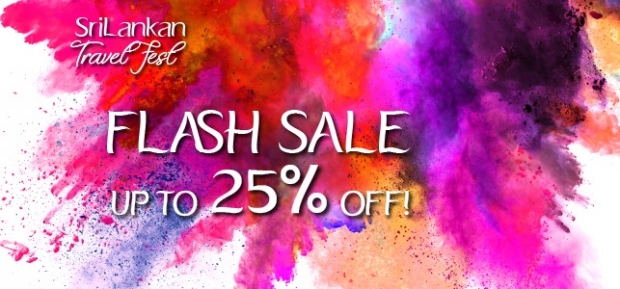 SriLankan Travel Fest
Up to 25% off to over 35 Destinations!
Save big, travel more! Get onboard the SriLankan Travel Fest and get incredible deals to over 40 destinations worldwide when you book your flights online!
Book between – 10 - 15 January 2019
Fly between – 15 February - 30 June 2019
Exclusive savings on Economy & Business class! Astounding destinations and irresistible savings. How could you possibly say no!
Hurry! Limited seats available.
Terms and conditions
This discount is available only for tickets purchased online at www.srilankan.com
This discount is offered for Economy and Business Class One way and Return air tickets from Colombo, Karachi, Lahore, Bangalore, Chennai, Coimbatore, Gaya, Hyderabad, Kochi, Kolkata, Madurai, Mumbai, Trichy, Trivandrum, Varanasi, Male (Maldives), Gan Island, Dhaka, Tokyo, Singapore, Kuala Lumpur, Shanghai, Guangzhou, Beijing, Melbourne, Kuwait, Muscat, Jeddah, Dubai, Abu Dhabi, Bahrain, Riyadh, Doha and Seychelles
Tickets must be purchased between 10 - 15 January 2019 to be travelled for travel and completion between 15 February - 30 June 2019
Please note that travel to and out of Colombo is not valid between 16 March - 14 May 2019. Travel out of Kuwait, Muscat, Jeddah, Dubai, Abu Dhabi, Bahrain, Riyadh and Doha is not valid between 21 May - 30 June 2019
Discount is applied only on Eco Saver, Eco Value, Biz Saver and Biz Value fare categories
Please note that the fares will be subject to availability
This offer cannot be combined with any other existing offer
Please note that the standard terms and conditions and fare rules will continue to apply. In order to gain a greater understanding, please read the fare conditions online at the time of purchase as fare rules vary by ticket and destination.
SriLankan Airlines Ltd reserves the right to withdraw all or any of the rules applicable to the above offers at any time at its sole discretion without prior notice.
General terms and conditions of credit/debit cards will continue to apply.
Check out SriLankan Airlines for more details about this offer and to book your seats now!