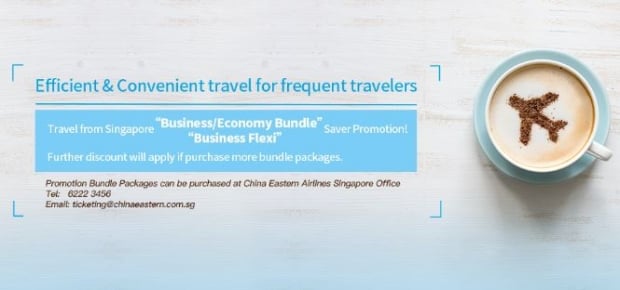 "Business / Economy Bundle" Saver
1、Sales Validity: On/before 30Jun2019
Travel Period Ex-SIN: On/before 30Jun2019
2、Fare Table
1)From Singapore to Shanghai/Changchun & Singapore-Shanghai-China Domestic
Routing
Class of Service
RT Fare (SGD)
2 Set
3 Set
4 Set
5 Set
Singapore-Shanghai/Changchun
Business
3000
4000
5000
6000
Economy
1400
1950
2400
2800
Singapore-Shanghai/China Domestic
Business
3400
4600
5800
7000
Economy
1600
2250
2800
3300
2)From Singapore to Kunming & Singapore – Kunming - China Domestic
Routing
Class of Service
RT Fare (SGD)
2 Set
3 Set
4 Set
5 Set
Singapore-Kunming
Business
2100
3000
3800
4500
Economy
1160
1680
2160
2600
Singapore-Kunming/China Domestic
Business
2500
3600
4400
5500
Economy
1320
1950
2560
3150
3)From Singapore to Jinjiang/Fuzhou/Hangzhou/Yantai
Routing
Class of Service
RT Fare (SGD)
2 Set
3 Set
4 Set
5 Set
Singapore-Jinjiang
Business
1500
2100
2600
3000
Economy
960
1350
1600
1750
Terms & Conditions

1. Bundle saver is valid for same one passenger only
2. Flexi saver:
For 10 tickets saver a maximum of 3 passengers is permitted
For 20 tickets saver a maximum of 5 passengers is permitted
3. Flight Application: Valid on MU/FM operated flights only
4. First ticket issue must have a confirmed flight/date
Subsequent tickets "OPEN DATE" is permitted.
5. Tickets are valid for 1 year from departure date of first ticket
6. Fares cannot be used in conjunction with other discounts
7. Change Fee apply except for same booking class within ticket validity and subject to seats availability
8. Refund: Tickets once issued are non-refundable
9. Upgrade to the next available booking class if original class is not available
10. All fare listed are in SGD and exclude taxes and fuel surcharges
11. Fares subject to seats availability

Check out China Eastern Airlines for more details about this offer and to book your seats now!