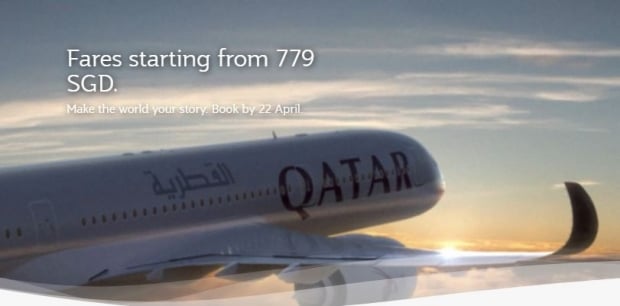 For some, it is lazy days in a sleepy rural countryside. For others, adventures in the fresh mountain air or time spent on Mediterranean sands. Wherever summer takes you, make sure the memories from your family holiday live long and are told often.
Plan your next adventure with fares starting from 779 SGD to your favourite destination.
Book by 22 April 2019 for travel until 30 November 2019.*
*Terms and conditions apply.
Destinations
Economy Class
Fare from
Business Class
Fare from
Berlin
SGD 779
SGD 3,579
Stockholm
SGD 789
SGD 3,319
London Heathrow
SGD 979
SGD 4,729
Paris
SGD 1,009
SGD 4,459
Frankfurt
SGD 1,049
SGD 3,659
New York
SGD 1,199
SGD 5,029
Terms and Conditions:
Sales period: 19-22 April 2019
Travel period: 19 April 2019 - 30 November 2019
Blackout period - Outbound: 18-28 April 2019, 1-9 June 2019, 11-31 July 2019, 9-12 August 2019, 16 August - 2 September 2019
Offer is valid for flights booked on qatarairways.com only for Qatar Airways operated flights.
Seats are limited and are subject to availability of the relevant booking class.
Fares displayed in the booking engine include all applicable discounts, fees, taxes and airport charges, all available fare options and applicable rules will be displayed at the time of booking.
Discount applies to instant purchases and on roundtrip tickets only.
Minimum and maximum stay as well as advance purchase rules apply dependent on the booking class and point of departure.
Blackout dates and weekend surcharge may apply. Please refer to the fare rules for details at the time of booking.
Tickets are non-endorsable and non-transferable.
Please refer to the fare rules at the time of booking for changes, cancellations and No-show conditions.
Any change or cancellation less than 3 hours prior to the stated time of departure will be considered as no-show.
For travel involving multiple booking classes, the most restrictive fare rules apply to the entire itinerary.
Standard child/infant discount apply.
Please note that on selected dates and destinations, lower market–specific promotion fares may be available. All available options, together with the applicable terms & conditions for each fare will be displayed at time of booking for you to make your selection.
Other terms & conditions apply. Please review at the time of booking.
Travel Validity: Please check fare rules at the time of booking.
Check out Qatar Airways for more details about this offer and to book your seats now!