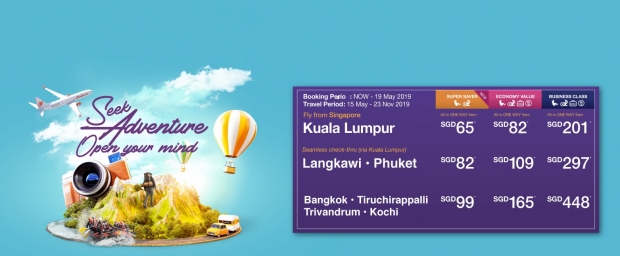 Seek Adventure, Open your Mind

Great deals, grab your seats now!
Booking Period : NOW - 19 May 2019 | Travel Period : 15 May - 23 Nov 2019
Destinations
Super Saver
Economy Value
Business Class
All-in Fares (One Way)
All-in Fares (One Way)
All-in Fares (One Way)
Kuala Lumpur
SGD 65
SGD 82
SGD 201
Langkawi
SGD 82
SGD 109
SGD 297
Phuket
SGD 85
SGD 122
SGD 318
Bangkok
SGD 95
SGD 144
SGD 352
Thiruvananthapuram
SGD 99
SGD 165
SGD 448
Kochi
SGD 102
SGD 171
SGD 448
Tiruchirapalli
SGD 99
SGD 165
SGD 448
Dhaka
SGD 129
SGD 192
SGD 448
Colombo
SGD 119
SGD 156
SGD 415
Kolkata
SGD 138
SGD 191
SGD 448
Varanasi
-
SGD 239
SGD 542
Delhi
SGD 171
SGD 250
SGD 579
Mumbai
SGD 203
SGD 292
SGD 611
Adelaide
SGD 263
SGD 396
SGD 944
Terms & Conditions:
Booking Period is from 06 May 2019 till 19 May 2019
Travel Period is from 15 May 2019 till 23 November 2019
This promotion is applicable on Malindo Air flights only.
This promotion is subject to seat availability.
Promo ticket is non-refundable for passengers who wish to cancel.
Not applicable for standby passengers.
Request of changing flight or departure date must be at least 4 hours before the departure time.
Passenger(s) will be charged according to flight rate change fees at the point of purchase.
Malindo Air has the right to change or discontinue these special fares and conditions at any time without prior notice.
Check out Malindo Air for more details about this offer and to book your seats now!