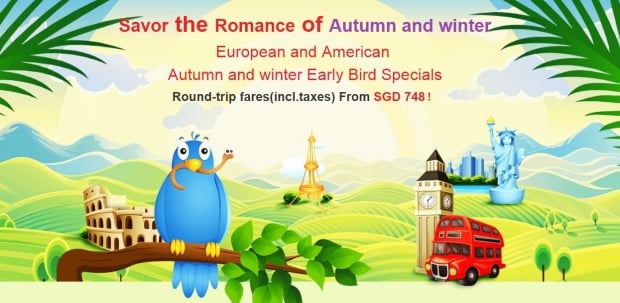 Take a return flight to Europe and North America this year to enjoy a different European and American customs - and get in the holiday mood!

European Early Bird Deals
| | |
| --- | --- |
| Destinations | Fare from |
| London | SGD 938 |
| Paris | SGD 798 |
| Frankfurt | SGD 845 |
| Rome | SGD 778 |
| Milan | SGD 758 |
| Madrid | SGD 755 |
| Stockholm | SGD 795 |
| Copenhagen | SGD 748 |
| Munich | SGD 825 |
| Warsaw | SGD 736 |
| Moscow | SGD 749 |
| Barcelona | SGD 748 |
| Athens | SGD 765 |
| Dusseldorf | SGD 813 |
| Geneva | SGD 750 |
| Vienna | SGD 783 |
| Minsk | SGD 758 |
| Budapest | SGD 760 |
American Early Bird Deals
| | |
| --- | --- |
| Destinations | Fare from |
| New York | SGD 883 |
| Los Angeles | SGD 883 |
| San Francisco | SGD 883 |
| Washington | SGD 883 |
| Houston | SGD 883 |
| Honolulu | SGD 883 |
| Vancouver | SGD 845 |
| Montreal | SGD 858 |
Terms and Conditions:
1)Sales date:From now until 30 September 2019.
2)Travel date: From now until 31 December 2019.
3)Applicable flights: Air China carrier flights originating from Singapore; not applicable to codeshare flights.
4)The above fares are all tax-inclusive prices after discount. Fares are subject to availability and upsell fares are offered in case the lower fare classes are not available.
Check out Air China for more details about this offer and to book your seats now!