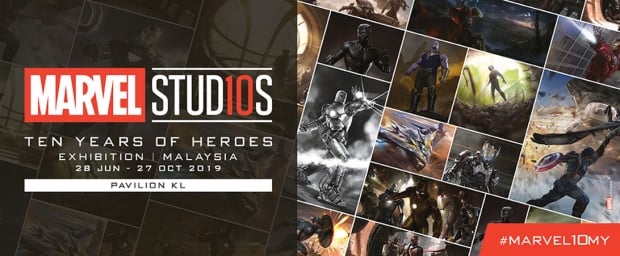 From 28 June to 27 October 2019, enjoy up to 15% off Marvel Studios: Ten Years of Heroes exhibition in Malaysia admission tickets when you pay using Maybank Cards!

Venue: Level 10, Pavilion Elite, Kuala Lumpur
Date: 28 June 2019 - 27 October 2019
Time: 10am - 10pm, daily

Terms and Conditions:
Promotions are applicable to both onsite and online ticketing.
Get your tickets now at www.marvelexhibition.my with promo code:
MARVELEXHMBEARLY applied for Early Bird 15% Discount
MARVELEXHMB10 applied for 10% Discount
MARVELEXHMB5 applied for 5% Discount
Payment must be made with a Maybank Visa, Mastercard, American Express Credit, Charge or Debit Card.
MyKad/MyKid Holders will need to provide ID verification at the counter to enjoy the discounted rates.
Published admission rates are subject to service charges and/or prevailing taxes.
The Walt Disney Company and its parents, affiliates and subsidiaries are not responsible for the promotion, administration or execution of this campaign.
Subject to other terms and conditions. Visit www.marvelexhibition.my for complete terms and conditions.
Check out Maybank for more details about this offer and to see all deals up for grabs!