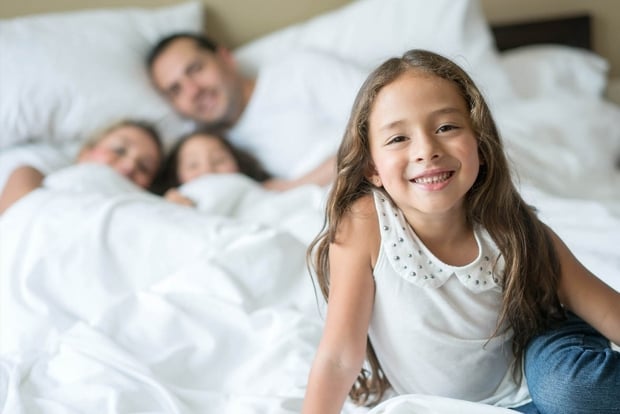 The weekends are here and what are you waiting for ? Quickly grab these weekends deals with Impiana KLCC and spend quality time with your family ! Don't miss out these amazing deals.

Terms and Conditions:
The full amount of the reservation will be charged on your credit card shortly after your booking is confirmed.
This reservation cannot be cancelled nor modified.
In case of no-show, a penalty of 100% will apply.
General Terms and Conditions
The following terms and conditions herein together with the Privacy Policy, Booking and Cancellations Policies and Add-Ons available on the Impiana KLCC website and the booking confirmation issues by Impiana KLCC ("Booking Confirmation") shall constitute a legally binding contract between you and Impiana KLCC.
In these Terms and Conditions, the words "We" or "Us" means Impiana KLCC Hotels and its employees, officers, agents, suppliers and use of "you" or "guest(s)/Guest(s)" means any and all persons for whom hotel rooms is booked.

Bookings
Full payment must be made at the time of booking, we accept payment made via Visa or MasterCard credit/debit cards, American Express, Union Pay, JCB for bookings made online via https://kualalumpurhotels.impiana.com.my/ ("Impiana KLCC Hotel"). The available payment options are displayed during the booking process on our Impiana KLCC Hotel payment page after all selection has been made accordingly.
Once your booking has been successful completed, a Booking Confirmation will be issued in respect of each room booked and sent to the email address provided in the Guest Information on the payment page prior to payment. You must produce your Booking Confirmation(s) upon check-in at the hotel, together with you original photo identification document (national registration identity card, passport, driver's license or any other identification card or document as the hotel may require), If you do not receive your Booking Confirmation(s) within twenty-four (24) hours from the time of booking, please contact us via +6 03 2147 11 11 for Reservation Department.
Credit card bookings made within five (5) days prior to check-in date will require presentation of the credit card used for payment of the booking during check-in. Failure to do so may delay your check-in process.
The 'Guest' named in the Booking Confirmation must be the person staying in the hotel otherwise we reserve right to cancel the booking.
At all times during the booking process, you will be advised to ensure the accuracy of your booking details (guest details, stay dates, room types, room rates, number of guest(s)). Impiana KLCC Hotel will not be responsible or liable for errors made in the booking details.
All bookings are accepted subject to room availability.
Please note that, hotel reserves the right to charge the card before your arrival during peak seasons to secure your room.




Room Rates
Room rates shown on Impiana KLCC Hotel are charged on a per room per night basis. Breakfast are inclusive for room rates which has breakfast included according to the total number of guest(s) selected during the booking process.
Room rates may or may not include service tax, service charge, or GST (as applicable) and/or other similar charges or tax subject to the requirements of the constitution of governed law. These will be charged at the prevailing rates and are payable in the currency country which would be MYR.
Room rates and details are correct at the time of publication and are subject to change without notice.

Tourism Tax (TTAX)
Pursuant with the Tourism Tax Act 2017, a charge of RM 10 per room per night Tourism Tax (TTAX) will be levied on tourist(s) and non-resident guest(s). Malaysian citizens and permanent residents with MyPR cards are exempted from the payment of TTax. TTax will be collected at check-in and is payable by cash or Creditcard. Tourism Tax Act was imposed officially on the 1st September 2017.

Prohibited in Hotel
You may not bring the following into our Hotels :-
• Pets (except for registered guide dogs) and livestock
• Electrical appliances and/or equipment for heating and/or cooking purposes
• Exotic fruits or Local Fruits such as Durians, Mangosteens and Jackfruits
Impiana KLCC Hotel reserves the right to remove and/or confiscate any of the above items found in any Hotel room immediately without notice to you and to charge you for any costs incurred for taking such action or for any loss or damage caused to the Hotel room, premises or property or to any Hotel guests or third party as a result of your failure to comply with this policy.
Impiana KLCC Hotel further reserves the right to ask you to leave the Hotel and remove your belongings from the room immediately if we shall, in our sole opinion, deem that you have used the Hotel room in an irresponsible manner or in a manner that will compromise the safety of, or cause damage and/or to the Hotel room, the Hotel premises, the other Hotel guests, our staff or any other persons or the reputation of Impiana KLCC Hotel, without any compensation and/or reimbursement to you.


Check-in and Check-Out Time
Check-In
Booked rooms will be held for check-in until 9.00 am the following day of the scheduled check-in date, after which the booking will be deemed cancelled upon no-show and Impiana KLCC Hotel shall be entitled to release the booked room(s) for the remaining stay dates to other guests. No refunds will be provided for the cancelled booking.
Booking which aren't guaranteed will be held for check-in until 4.00 pm of the same day of the scheduled check-in date, after which the booking will be deemed cancelled and Impiana KLCC Hotel shall have the entitlement to release the booked room(s) for the remaining stay dates to other guests.

Check-Out
If you check-out beyond the stipulated time at the Hotel of your stay, Impiana KLCC Hotel reserves the right, without further notice to you, to charge you an additional one (1) night's stay at the then prevailing room rate or remove your belongings into the luggage storage facility (luggage storage charges may apply) and deny you further access into the room. Impiana KLCC Hotel shall not be liable for any loss or damage to your belongings as a result of the action(s) taken.

Changes and Cancellations
Payments made for bookings which are under the promotional rates are strictly non-refundable, modifiable or cancellable.
Changes
Change of Guest name on your booking is allowed if made 72 hours prior or more before your check-in date. Any request of change which has surpassed the allowed time shall not be allowed and charges would be implied.
Changes of Check-in date is allowed if made within 72 hours prior or more before your check-in, stay night has to remain the same as original booking if there would be any shorten stay the remaining room nights would be charged accordingly and no refunds will be provided.
Cancellations
Bookings which are made via promotion, deals, and affiliated programs cannot be amended, modified or cancelled. Any booking cancellation or failure to arrive on the scheduled check-in date will be treated as a no-show in respect of a booking and will result in the total payment under that Booking Confirmation (including any applicable tax paid) non-refundable and will be forfeited.

Optional Facilities
Extra Bed
Extra bed is available and subject to availability during the Check-in dates, request for extra bed needs to be mentioned in "Special Request" box provided at the booking page. Payment has to be made during check-in at the rate of RM 90 nett for Bed only without Breakfast and RM 120 nett for Bed with One breakfast per day. Rates are based on per room per night charges and this facility is only available for Deluxe room category.
Limousine Services / Airport Transfer
Limousine services / Airport Transfer are available via the appointed 3rd party with the Hotel, reservation of this service has to be made three (3) full days or more before check-in date. In the interim of reservation, a credit card guarantee must be presented and payment would be made upon check-in.
There would be additional 50% charges on any Limousine arrangement within the time frame of 12.00 am midnight till 7.00 am

Damage
You are liable for any damage howsoever caused to the allocated room(s) or to the Hotel premises or property caused by you or any persons in your party (whether or not staying at the Hotel) during your stay. Impiana KLCC Hotel reserves the right to retain your credit card and/or debit card details and charge or debit such amounts as it shall in its sole discretion deem fit on the said card(s) to compensate or make good the loss, damage, costs or expenses incurred or suffered by Impiana KLCC Hotel as a result of the aforesaid. Regardless, Impiana Hotel KLCC further reserves the right to commence legal proceedings against you without notice.

Right to Refuse Accommodation
Impiana KLCC Hotel reserves the right to refuse accommodation to you and any person(s) without any notice and terminate any booking without being liable for any refund or compensation for the following reasons:
• Booking which are paid through illicit/fraudulent methods
• Booking which have been altered by anyone other than Impiana KLCC Hotel or Impiana KLCC Hotels' authorized agent or has been tampered with or the Booking Confirmation has been defaced (in which case Impiana KLCC Hotel reserves the right to retain such booking documentation)
• The person checking in is not or cannot prove that he/she is the person named in the Booking Confirmation
• As permitted under the provisions of these Terms and Conditions.

Limitation of Liability
Impiana KLCC Hotel is responsible for providing the room(s) stated in the Booking Confirmation(s) and according to these Terms and Conditions. We do not accept any liability for failure to provide the services contracted or any of them due to circumstances beyond our control.
To the extent permitted by law, Impiana KLCC Hotel do not accept any liability arising out of any occurrences beyond its control including but not limited to acts of terrorism, acts of God, flood, war, strikes, riot, theft, delay, cancellation, civil disaster, government regulations or changes in itinerary of schedule (collectively, "Force Majeure")
Without affecting any statutory consumer rights or other laws that cannot be lawfully excluded or limited, Impiana KLCC Hotel will not be liable for loss of any kind whatsoever arising out of, caused by, attributable to or resulting from your booking, use of the Impiana KLCC Hotel Website or stay at the Hotel even if caused or contributed to by Impiana KLCC Hotel's negligence, wrongful act / omission or breach of these terms and conditions or breach of duty or otherwise.
All activities have inherent risks to health and safety and Impiana KLCC Hotel will not be responsible for any eventualities related to any activities or services booked through the Impiana KLCC Hotel Website or during your stay at the Hotel.
Impiana KLCC Hotel will not be responsible for any loss or damage of property left in Guest's room and/or the Hotel property at all times. Guests are advised to obtain insurance to cover curtailment, and loss of luggage, personal effects, damages, personal injury and money/valuable belongings.

Privacy and Data Protection
You may visit this Site without revealing any personal information about yourself. However, in order to provide you with the requested information or other services e.g booking, you may need to provide us with your personal information. Your privacy and trust are important to us. This Privacy Policy is served to inform you on the collection, use, disclosure and protection of your information.
This Site only collects personally identifiable information or to decide what communications you want to receive from us. However, incomplete information may affect or prevent the processing of certain transactions.
Impiana KLCC Hotel will retain all personal information you provide during booking. By making a booking with us or using the Website, you consent to our use and/or disclosure of your personal details to our related corporations, associates, affiliates, agents, commercial partners, service providers and/or any other parties engaged by us to enable or assist us in the provision of services or to exercise or enforce our rights hereunder and/or any other party as Impiana KLCC Hotel ma, in our sole and absolute discretion, deem necessary for the following purposes :
• To process you booking and for other administrative purposes
• To provide customer support and services
• To send you information on products and services, and special or promotional offers, newsletters or customer survey forms and questionnaires. You may unsubscribe from these at any time by clicking on the "unsubscribe link" on the relevant email communications.
We may also be legally obliged to disclose, and you irrevocably consent to our disclosing, your personal information to government and enforcement agencies, regulatory bodies and public authorities or as may be required by law. This may involve sending your personal information between different countries.
We will use our best endeavours to use your personal information in the manner stated herein and will not otherwise disclose your personal information without your prior written consent.
Kindly be reminded to regularly review and update your personal identifiable information. You may review, update and/or correct your information by contacting our reservation department and requesting an access form. Likewise enquiries and complaints may be lodged with us. Please note that in an effort to prevent the unauthorized disclosure of your personal identifiable information, you may be asked to provide proof of identify or other authentication materials together with the completed access request form.
We use commercially reasonable steps to protect your personally identifiable information we collect from any loss, misuse, modification, unauthorized or accidental access or disclosure, alteration or destruction. However, due to the pace of development of internet technology and other factors beyond our control, we cannot guarantee that communications between you and our server will be free from unauthorized access by third parties.
This Privacy Policy does not apply to information we collect by other means or from other sources. Your use of this Site constitutes your acceptance of this Privacy Policy and the terms thereof and your consent to any action we take with respect to your personal information. We reserve the right to change the terms of this Privacy Policy at any time by updating this version. Your continued use of this Site following the posting of changes to the Privacy Policy constitutes an acceptance to those changes.

Cookies
Impiana KLCC Hotel uses cookies in our webpages to:
• Maintain your session and required detailed when you browse the Impiana KLCC Hotel Website, during account registration and during the booking process (session cookie)
• Collect website usage data for statistical/analytics purposes (analytics cookie)
• Direct you to the correct landing page based on your geo-location (geo-targeting cookie)
You may instruct your browser, by changing its settings, to stop accepting cookies or to prompt you before accepting a cookie from the websites that you visit. Impiana KLCC Hotel Website will not function properly if cookie setting is disabled.

Copyright and Trademarks
The Impiana KLCC Hotel website including the booking and other applications, text, graphics, designs, audio, and video clips, hotel and destination information and all other content thereon are the exclusive property of Impiana Group and/or its content suppliers.
You may use the Impiana KLCC Hotel Website and its content solely for personal, non-commercial and private use subject always to applicable copyright laws.
All trademarks, trade names, service marks and all other marks, whether registered or unregistered, on the Impiana KLCC Hotel are owned by or licensed to Impiana Group and their respective owners and may not be used, reproduced or modified without prior written approval by Impiana KLCC Hotel or Impiana Group.
You hereby irrevocably agree to indemnify and keep us indemnified against all liabilities, claims, losses and expenses, including any legal fees that may be incurred by us in connection with or arising from (1) your use or misuse of this Site and the services provided herein; or (2) your breach of these terms and conditions howsoever occasioned; or (3) any intellectual property right or proprietary right infringement claim made by a third party against us in connection with you use of this Site.

Disclaimer
The Impiana KLCC Hotel Website, services provided and all content thereon are supplied "as is" and "as available". Impiana KLCC Hotel provides no guarantee, representations or warranties of any kind, either express or implied, regarding the website and content. You are solely responsible for our use thereof.
While we will make every effort to ensure that the information on the Impiana KLCC Hotel is accurate and published in good faith. Without affecting any statutory consumer rights that cannot be lawfully excluded or limited, Impiana KLCC Hotel does not warrant or represent the accuracy of the information displayed and disclaims to the maximum extent permitted by law all warranties expressed or implied by statute, custom or usage.
Impiana KLCC Hotel will not be liable for any direct, indirect, consequential, punitive losses or damage (including without limitation loss of revenue, loss of goodwill, loss of reputation and loss of, or damage to data), arising out of the Impiana KLCC Hotel Website or the use thereof or any services purchased from the Impiana KLCC Hotel Website, or any errors, inaccuracies or omissions in the services or content provided howsoever caused.
The various linked sites on the Impiana KLCC Hotel Website allows for further link-up and interaction between Guests and the said sites for promotions and other interactive mediums. The inclusion of all website links on our Impiana KLCC Hotel. We will not be responsible for the content on the linked sites or your use thereof.

Governing Law
Any disputes arising out of or related to the Site or these terms and conditions or your contract with Impiana KLCC Hotel shall be handled individually without any class action and is governed by the laws of Malaysia and any disputes shall be settled in the courts of this country.
All other matters concerning or relating to Impiana KLCC Hotel Website and/or change, amend, vary or add to these Terms and Conditions at any time without prior notice. Your continued use of the Website will constitute your acceptance of any such cancellation, amendment, or variation.

Changes to the these Terms and Conditions
Impiana KLCC Hotel reserves the right to cancel, amend or vary the arrangements and content featured on the Impiana KLCC Hotel website and/or change, amend, vary or add these Terms and Conditions at any time without prior notice. Your continued use of the Website will constitute your acceptance of any such cancellation, amendment, or variation.

Conflict between English text and other Language text
If there is any conflict or discrepancy between the English text of these Terms and Conditions and any translation thereof into any other language, the English text shall prevail.

Check out Impiana for more details about this offer and to book your accommodation now!