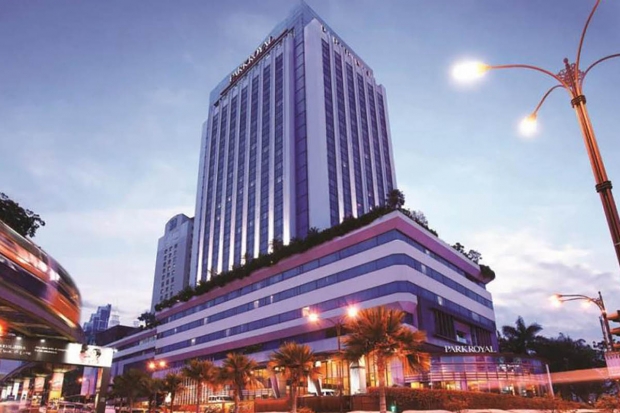 Receive an amenity package of fresh fruit, chocolate and two bottles of water, early check-in/late check-out, daily breakfast, complimentary room upgrade, all subject to availability and Ts&Cs.

Situated in the heart of the Golden Triangle, Kuala Lumpur's main commercial and retail district, this hotel is an ideal choice for both business and leisure travellers to the Malaysian capital. This contemporary hotel provides a calming respite from the commotion of the city, with a peaceful spa and sophisticated rooms that come replete with comforts of home like complimentary wi-fi, smartphones, fully stocked minibars, and in-room dining. The rooftop swimming pool provides a laid-back oasis to cool off, where guests can indulge in cocktails and light meals while overlooking the sprawling city. For more adventure driven travellers, the hotel offers a selection of tours through the city where guests can immerse themselves in the many modern delights and historical sites. After a day spent exploring this multicultural hub, the hotel's culinary facilities provide mouth-watering delicacies ranging from Malaysian plates to Japanese fine dining and authentic Chinese fare paired with traditional tea ceremonies.

Mastercard Amenities
Complimentary breakfast
Complimentary room upgrade, subject to availability at check-in
Early check-in, subject to availability
Late check-out, subject to availability
Amenity package of fresh fruit, chocolate and two bottles of water
Terms and Conditions:
Guarantee Policy
Offer must be booked directly with Mastercard Travel & Lifestyle services with a valid Mastercard. Bookings completed through any other channels does not qualify for the offer.
A valid Mastercard is required at booking time. The Mastercard used at the time of booking must be presented by the cardholder together with positive identification on check-in at the property. An imprint or swipe of the card will be taken on check-in. On departure from the property, all fees for services rendered shall be payable by the guest and where necessary the Mastercard will be debited by the property for the fees. The property shall debit the Mastercard for all cancellations, no-shows or for any damages caused by the guest to the property, howsoever arising. This transaction constitutes an electronic transaction and a binding agreement in terms of which the guest authorises the property to debit the Mastercard as stated above and the guests written signature shall not be required for authorisation purposes.
Deposit Policy
A deposit may be required.
Cancellation Policy
All hotel reservations are subject to a Cancellation Policy. Failure to check in on the reserved arrival date will incur a penalty charge as detailed in the Cancellation Policy of the rate booked. The hotel reserves the right to cancel or modify reservations under the circumstances where it appears that a customer has provided an invalid Mastercard, engaged in fraudulent or inappropriate activity, or the reservations contain or resulted from a mistake or error. In addition, the hotel also reserves the right to cancel or amend bookings if their terms & conditions are not adhered to. If a guest chooses to shorten their stay or check out early, a penalty charge will apply, as detailed in the Cancellation Policy associated with the rate booked. In the cases of the aforementioned booking cancellations, the hotel has no obligation to guarantee new available bookings or best rates. A new booking at the best available rate will need to be made by the guest at the time of the new reservation.
Mastercard benefits
Mastercard benefits are only available in conjunction when booking at the hotels' flexible Best Available Rates and the benefits will not apply to any other rate type.
Benefits are subject to availability and restrictions apply. Click here for full Mastercard Travel & Lifestyle Services program terms and conditions.

Check out MasterCard Promotion for more details about this offer and to see all deals up for grabs!