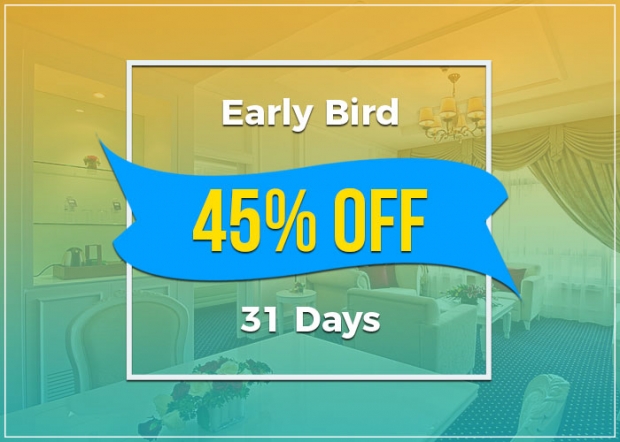 Save more when you book your stay 31 days ahead. You will get a 45% discount on your room accommodation.

Inclusions:
Complimentary WiFi
Complimentary bottled water
Complimentary newspaper
Complimentary parking
Conditions:
Lead Time: At least 31 days from check-in date is required
Stay Period: 25 September 2019 to 31 December 2019
Reservation Policies:
*All times indicated in the policies are expressed in hotel's local time (GMT +08:00).
Arrival Time: 02:00 PM - Departure Time: 12:00 PM
Children Policy: Children 12 and below can stay in the hotel for free. Maximum number of children allowed to stay for free depends on the room type booked.
Prepayment: No prepayment will be charged. Payment for your stay will be made at the hotel. Please note that your credit card may be pre-authorized prior to your arrival.
Modification: If you choose to modify, you will be charged the total room charges.
Cancellation: If you choose to cancel, you will be charged the total room charges.
No-show: Guests who do not arrive within 24 hours of the check-in date and time of the hotel will be charged the total room cost of the reservation.
Hotel Policies
Cancellation Policy: The cancellation policy of reservation may vary depending on factors which includes but not limited to room rates, room availability, or other hotel requirements. The cancellation policy will usually be provided during and upon confirmation of your reservation. Any reservation cancellation are bound to the cancellation policy attached to each reservation. This policy will terminate without liability to either party is impeded or prevented by any cause reasonably beyond that party's control. Such causes include, but are not limited to acts of God, regulations or orders of government authorities, fire, flood or explosion, global war, disaster, civil disorder or other emergencies making it advisable, illegal or otherwise impossible to provide the facilities or the services as to hold any conference or meeting; sale of the hotel, any delay in necessary and essential construction or renovation of the hotel, arrest or seizure under legal process, strike, lockout, work stoppage, other restraints of labour, either partial or general, from whatever cause.
Children Breakfast Policy: Complimentary buffet breakfast for child below 6 years old. Half price to be charged for child aged 6 to 12.
Children Stay Policy: Child ages 12 and below are allowed to stay with their parents of up to 2 person free of charge, with the existing bedding and inclusion.
Durian Policy: Durian fruits are strictly forbidden in our hotel.
Extra Bed: Extra bed are available at RM130.00 nett (with 1 breakfast) and RM110.00 nett (without breakfast).
Hotel Policy: Connecting room are available on request & subject to availability.
Non Smoking: Non smoking room is on request and subject to availability.
Pets Policy: Pets are not allowed in our hotel.
Tourism Tax Policy: Rates quoted are excluding the Tourism Tax of RM10.00 nett per room, per night for all foreign guests effective as of 1st September 2017, to be paid separately at the hotel.
Check out The Royale Chulan Damansara for more details about this offer and to book your accommodation now!