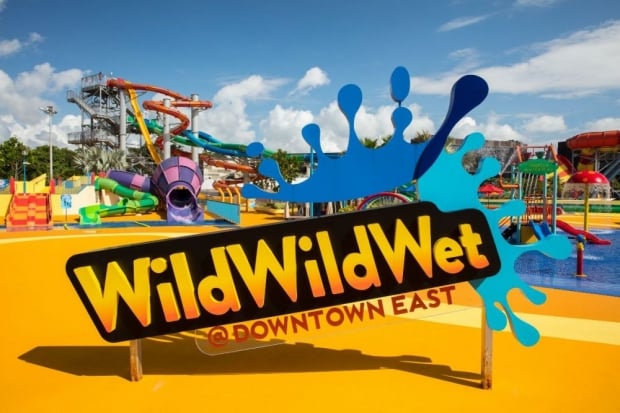 Get 20% off Day Passes for a minimum of 2 guests when you pay with a valid Visa card.

Wild Wild Wet is one of Singapore's largest water parks. Situated in Downtown East, only 10 minutes away from Changi International Airport, it remains one of the most popular attractions. Recently expanded and sitting on 4 hectares of land, the water park is home to 16 water rides for all age groups including 7 latest additions. From adrenaline-pumping rides to relaxing and gentle ones, visitors are guaranteed a splashing fun-filled day!

To redeem, present this offer to the ticketing counter at time of purchase and pay with a valid Visa card.

Offer valid from Mar 1, 2019 00:00 GMT - Feb 29, 2020 00:00 GMT

Terms and Conditions:
• Wild Wild Wet is solely responsible for this offer.
• Offer excludes Gazetted Public Holidays.
• Valid for all Adult, Child and Senior Day Passes on public rates only.
• Offer valid for minimum purchase of 2, maximum purchase of 5 Day Passes per customer, per transaction.
• Day Passes issued are only valid on the date of purchase, with unlimited access during the operating hours.
• No issuance and redemption of LinkPoints for this promotion.
• Park may be closed for corporate/ private events and there will be no sales of Day Pass and admission.
• Should any attractions be closed for maintenance, no refunds or exchange of Day Passes will be made.
• Expired, torn and/or damaged vouchers are not valid and will not be replaced.
• Not applicable with other promotions, discounts and vouchers.
• Day Passes are non-refundable, non-transferable, non-exchangeable for cash & cannot be resold.
• Wild Wild Wet reserves the right to amend any of the Terms and Conditions without prior notice.
• Visa Amazing SEA Singapore offers are valid until 29 February 2020, unless otherwise stated. Please see individual merchant blackout dates.
• Offers are valid only when paid with a Visa card issued in the Asia-Pacific region. Except where noted, this includes Australia, Bangladesh, Bhutan, Brunei Darussalam, Cambodia, China, Cook Islands, Fiji, Guam, Hong Kong, India, Indonesia, Japan, Lao People's Democratic Republic, Macau, Malaysia, Maldives, Micronesia, Myanmar, Nepal, New Zealand, Papua New Guinea, Philippines, Samoa, Singapore, Solomon Islands, South Korea, Sri Lanka, Taiwan, Thailand, Tonga, Vanuatu, Vietnam.
• Either print, or save on a mobile device, this guide and present the appropriate offer at time of payment, unless otherwise stated.
• Failure to redeem the offer at the proper time may result in denial of the benefit.
• You must pay with a Visa card in order to receive your discount or benefit.
• Offers may not be used in combination with other promotions, discounts, coupons or special offers.
• Offers may not be redeemed for cash or other items.
• Offers are valid only at locations listed in this guide.
• Limited one offer per person per visit. Offers and services noted in this guide are the responsibility of the individual merchant.
• Contact the merchant directly for enquiries or additional information.
• Terms and conditions for each offer vary. Read the terms and conditions before use.
• Retain your Visa card receipts after your purchase. You may be required to show proof of purchase in case of claims after your return.
• Visa is not liable for any and all claims that may arise from its use.
• Information contained in this guide is current as of February 2019 and is subject to change. Offers and services are subject to change or discontinuation.
• Except where specifically noted, offers in this guide are exclusive of tax and service charges.
Activities
• Ensure that you read the Terms and Conditions found on each individual offer page. Offers must be presented at reception.
• Photographs are for image purposes only. Actual items may vary from the images found in this guide.

Restaurants
• One drink, dessert or complimentary dish/gift per customer only, except where noted.
• Each customer accompanying the Visa cardholder who fulfils the specific requirements of the offer is also entitled to the benefit(s).
• Photographs are for image purposes only. Actual items may vary from the images found in this guide.
• Complimentary items must be claimed at the destination. They cannot be claimed after your return.
• Limit one redemption per customer, no more than once every six months. You may be required to leave your name when claiming a gift with purchase.
• Items subject to change depending on stock.

Check out Visa Promotion for more details about this offer and to see all deals up for grabs!