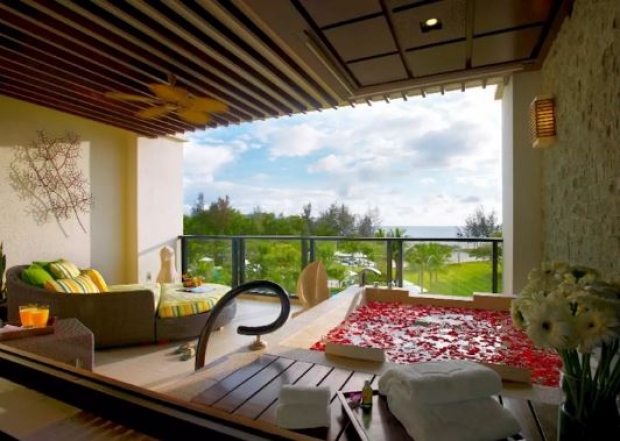 Get 20% off Ocean Wing room best available rate, 10% off at all F&B outlets & 10% off all spa treatments when you pay with a valid Visa card.

Shangri-La's Rasa Ria Resort & Spa, Kota Kinabalu is an enchanting tropical retreat rising above a pristine stretch of beachfront. Surrounded by 400 acres of tropical forest, nature is all around, with tropical-inspired accents showcased in the sumptuous interiors of 499 guest rooms and suites.

To redeem, visit https://www.shangri-la.com/kotakinabalu/rasariaresort/, select your dates, choose "Flexible Rate / CustomStay" and enter promo code VISA20 in the "Special Request" field. Payment must be made with a valid Visa card.

Dining reservations can be made by phone to +6088-797-888. Spa reservations can made online at http://www.shangri-la.com/kotakinabalu/rasariaresort/spa/request-an-appointment/.

Offer valid from May 27, 2019 00:00 GMT - Mar 31, 2020 23:59 GMT

Terms and Conditions
Shangri-La's Rasa Ria Resort & Spa is solely responsible for this offer.
All spa and F&B purchases shall be billed to guest's rooms, and discounts shall be applied and deducted at check-out.
Offer is only valid for bookings of Ocean Wing rooms.
Offer cannot be combined with any other discounts or promotions.
Offer not valid on the following dates: 1 Jul-20 Aug 2019, 29 Sep-5 Oct 2019, 24 Dec 2019-2 Jan 2020, 24 Jan-2 Feb 2020.
General Terms & Conditions
The offers under the Visa Preferred Merchant Program ('The Program') are valid until 31 March 2020, unless otherwise stated. Please see individual merchant blackout dates.
Offer(s) is/are valid for payment made with Visa card issued outside of Malaysia.
In order to enjoy the offer, cardholder must present the Offer material in the form of without limited to printed material of the offer, QR Code, Promotion Code as saved in a mobile device or offer as stipulated in the merchant's or Visa's website under The Program ('Offer material') at time of payment with a Visa card, unless otherwise stated.
Benefits cannot be redeemed without offer material.
Failure to redeem the offer during the offer period and/or at time of payment may result in denial of the benefit.
Offers may not be used in combination with other promotions, discounts, coupons or special offers, unless specified or permitted by the merchant at time of payment using a Visa card.
Offers may not be redeemed for cash or other items.
Offers are valid only at locations listed in this program.
Offers and services noted in this program are the responsibility of the individual merchant.
Contact the merchant directly for enquiries for additional information.
Terms and conditions for each offer may vary. Read the terms and conditions before use
Retain your Visa card receipts after your purchase. You may be required to show proof of purchase with your card issuer in case of claims and/or cardholder dispute after your return.
Information contained in this program is current as of December 2018 and is subject to change.
Except where specifically noted, offers in this program are exclusive of tax and service charges.
Visuals in the Offer material are for illustration purposes only and may not depict the actual item or color in this program.
By participating in The Program, all cardholders agree to be bound by the applicable rules and regulations, and agree to abide by Visa's decisions, which shall be final. No challenges, protests, further appeal or correspondence from the cardholders will be entertained.
In the event, cardholder who are not eligible to The Program; and/or have committed or are suspected of committing any fraudulent or wrongful acts in relation to the use of their Visa card and/or any transactions made thereof; Visa and their affiliates as well as their respective representatives reserve the right to disqualify such cardholder from participating in The Program.
The terms and conditions set out in this section are cumulative to, and are not meant to derogate from or prejudice, the specific terms and conditions, or rights of Visa and their affiliates as well as their respective representatives, agents or employees in respect of The Program as stated herein.
Visa reserve the right:

to amend, delete or add to any of the terms and conditions herein;
to cancel, terminate or suspend The Program, at any time with or without notice to a cardholder.

All eligible cardholders agree to access Visa's official website at visa.com.my at regular time intervals to view the Terms and Conditions of The Program and to ensure that they keep-up-to-date with any changes or variations to the Terms and Conditions.
For the avoidance of any doubt, the exercise by Visa of any of its foregoing rights shall not entitle any cardholders to claim for compensation whatsoever against Visa and/or in relation to The Program.
Visa shall not be liable to any cardholder for any direct, indirect, incidental, special or consequential loss or damage (including, but not limited to, loss of income, profits or goodwill) arising from or in connection with The Program or any of the prizes, gifts or benefits provided under The Program, even if Visa have been advised of the possibility of such loss or damage (including, but not limited to, any loss or damage arising from any failure to receive or process any entry; any error in computing any chance; any computer, telecommunications or equipment failure or malfunction; or any notice which is misdirected or lost in the postal system).
Visa shall not be liable and responsible for any liability with respect to injury, death, consequential loss or damage arising from use of the offer in The Program.
Visa's decisions on all matters relating to The Program are final and binding on all cardholders of this Promotion, and no correspondence will be entertained.
In the event of any inconsistency between these terms and conditions and any brochures, marketing or other Promotion material relating to The Program, these terms and conditions shall prevail.
These terms and conditions shall be governed by the laws of Malaysia and all cardholders of The Program shall be deemed agreeable to submit to the exclusive jurisdiction of the courts of Malaysia.
In addition to the terms stipulated above, Cardholders agree that the general terms and conditions in the Cardholders' Agreement shall be read together with these terms and conditions as an entire agreement. In the event of any discrepancies between the Terms and Conditions of the Campaign and the general terms and conditions contained in the Cardholder's Agreement, the specific terms herein shall prevail to the extent of such discrepancy.
Check out Visa Card Promotion for more details about this offer and to see all deals up for grabs!