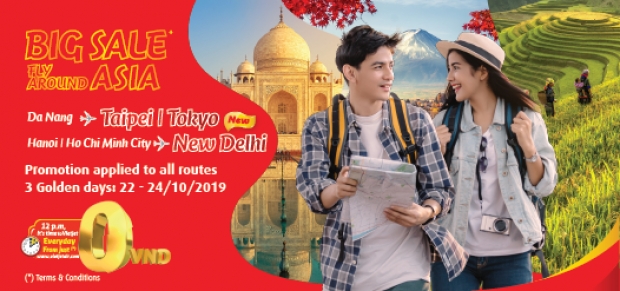 1. Booking time: 22 - 24 October, 2019 12:00pm – 2:00 pm (UTC+7)
Particularly, for the HCMC/ Hanoi – Tokyo (Narita – Japan), Danang – Tokyo (Haneda – Japan) and HCMC/ Hanoi – Osaka (Kansai – Japan) routes, the promotion is applied all day long during three golden days.
2. Promotional fares: From VND 0/fare (excluding VAT, airport fees and other surcharges)
3. Number of available tickets:
Domestic: 1,350,000 tickets
International: 780,000 tickets
4. Route: All domestic & international routes
Singapore: Ho Chi Minh City / Hanoi -> Singapore
5. Travel Period: 23/11/2019 – 30/06/2020 (excluding public holidays)
6. Booking channels:
- Website: www.vietjetair.com
- Mobile: m.vietjetair.com
- Mobile App VietjetAir GooglePlay - AppleStore
- Facebook: https://www.facebook.com/vietjetglobal
Tab "Book now"
7. Terms and Conditions:
- Name change: Not allowed
- Ticket refund: Not Allowed
- Flight/Date/Route change: Allowed with fee applicable under Promo ticket (if any)
8. Payment method:
Credit Cards (Visa & Master card/ AMEX/JCB, UPI) and ATM card registered Internet banking are all accepted (applied in Vietnam)
Note: Promotional days are subject to change due to the availability of promotion fares

Check out Vietjet Air for more details about this offer and to book your seats now!