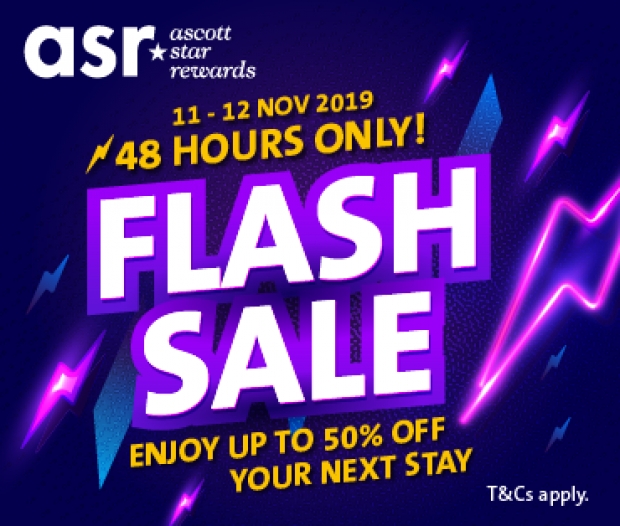 11.11 Flash Sale

Missed out on early bird prices at your favourite holiday destinations? ASR has got you covered! With up to 50% off our properties worldwide, our 11.11 Flash Sale is now bigger than ever. What's more, ASR members can save even more by redeeming their ASR points on their reservations. Book now, as this promotion is only available for 48 hours!
Not an ASR member? Sign up for free to take advantage our 11.11 Flash Sale. As an ASR member, you will enjoy the lowest rates at our award-winning serviced residences across the world, when you book online. Our warm hospitality will make you feel right at home on all your travels!

Booking Period: 11 Nov 2019 -12 Nov 2019
Stay Period: 11 Nov 2019 – 31 Dec 2019
TERMS AND CONDITIONS
The promotion is open to all The Ascott Limited ("TAL") Ascott Star Rewards members (the "Members").
All date and time mentioned in the promotion is based on Singapore Standard Time (SST).
Promotional rates and apartment types are subject to availability, to change without further notice and are non-negotiable, non-transferable and non-commissionable.
This offer is not open to existing leasing contract customers and cannot be used in conjunction with any other promotions, partner offers, third party websites, corporate and promotional rates.
Minimum and/or maximum stay period restrictions may apply to reservations at selected serviced residences. TAL's guarantee and cancellation policy apply unless otherwise specified during the reservation process.
Points earned must be used before the expiry date. Point balance is only available in the member's account.
Redemption items are non-transferable, non-exchangeable and non-cashable, and are subject to availability. TAL reserves the right to substitute the redemption items for other items of similar value.
All ASR membership privileges are personal to the Member and shall not be transferable to any third party.
Other terms and conditions as notified by TAL to the Member will apply in respect of other benefits and privileges granted under the ASR Membership.
TAL reserves the right to cancel, amend or modify these Terms and Conditions (as may be revised by TAL from time to time) at its sole and absolute discretion without prior notice to the Member, even though such changes may affect the value of the points already accumulated.
TAL reserves the right to, at its own discretion, to add, remove or vary any privileges that are available under the ASR membership without any prior notice to the Member.
For the avoidance of doubt, the Member shall not be entitled to any compensation in respect of such addition, removal or variation (as the case may be).
The Member shall keep TAL fully indemnified from and against all loss and damage, suffered or incurred by TAL, directly or indirectly caused, arising from or relating to the Member's use of the ASR membership and/or breach of these Terms and Conditions.
In the event of inconsistency or discrepancy between the English version and the other versions of the Terms and Conditions (if any), the English version shall prevail.
Check out Ascott Hotels for more details about this offer and to book your accommodation now!