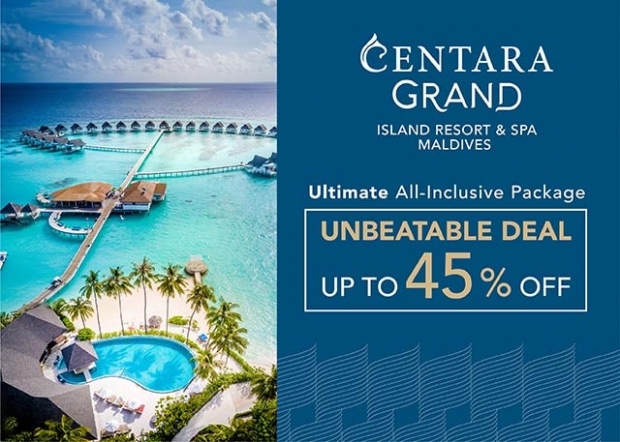 Experience our Ultimate All-Inclusive package at Centara Grand Island Resort & Spa Maldives, a gorgeous five-star resort on a secluded private island, which offers palm-shaded beaches, a shimmering lagoon, serene natural beauty, superb food, spa treatments and recreation for couples or families at an all-inclusive price.(Ultimate All-Inclusive Details)
Book by 29th February 2020 for a Maldives holiday before 30th April 2021 to enjoy 35% off. Plus, CentaraThe1 members enjoy an extra 10% off. If you're not yet a member, sign up. It's free and easy.
Round trip transfers between Velana International Airport and the resort are mandatory at an additional charge (USD 400 per adult, USD 200 per child, and FREE for Infant 0-1 years old).
Your transfer type depends on your arrival time in the Maldives:
Roundtrip Seaplane Services (25 mins)
Arrival flight to the Maldives must be between 06:00 hrs. – 15:45 hrs.
Departure flights from the Maldives must be between 09:00 hrs. – 20:00 hrs.
Roundtrip Domestic flights (20 mins) + Speedboat (10 mins)
Arrival flight to the Maldives must be between 16:00 hrs. – 22:30 hrs.
Terms & Conditions
The mandatory return transfer rates are – Adults: USD 400 return, inclusive of all taxes; Children (2 to 11 years): USD 200 return, inclusive of all taxes. Infants (0-1 years) receive complimentary transport. Our Welcome Ambassadors will be delighted to assist with the transfers at the airport.
Baggage allowance 25 kgs per person including hand luggage. The Carrier reserves the right to charge for excess baggage directly from the passengers.
Guests must send arrival and departure flight details directly to the property at least 48 hours prior to arrival.
Rates are exclusive of 10% service charge and prevailing government tax.
All reservations must be guaranteed with a credit card number that is valid throughout the entire stay.
Full prepayment is required at the time of reservation; full charges will be applied in the event of cancellation, no-show, shortened stay or early departure.
Booking amendments are not permitted.
This promotion cannot be used in conjunction with any other promotions.
Check out ​Centara Grand Island Resort & Spa Maldives for more details about this offer!