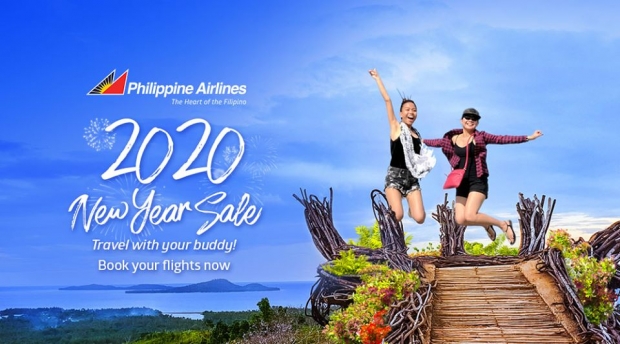 Enjoy travel deals for you and your buddy with Philippine Airlines' 2020 New Year Sale for as low as SGD 70 Economy Roundtrip Base Fare per passenger for a minimum of 2 passengers.
Discounts also await Solo Travellers on Economy Class and Business Class!

BOOKING EXTENDED UNTIL FEBRUARY 2, 2020
and LONGER TRAVEL PERIOD from February 1 - December 10, 2020.​

ROUNDTRIP BASE FARES
Flight Route
Economy Class
Fare from
Premium Class
Fare from
Business Class
Fare from
Singapore to Manila*
SGD 70**
SGD 170**
SGD 440**
Singapore to Hong Kong via Manila
SGD 200
-
SGD 1,190
Singapore to Taipei via Manila
SGD 220
-
SGD 1,190
Singapore to Macau via Manila
SGD 280
-
SGD 1,190
Singapore to Tokyo (Narita) via Manila
SGD 330
-
SGD 1,180
Singapore to Tokyo (Haneda) via Manila
SGD 330
-
SGD 1,180
Singapore to Osaka via Manila
SGD 330
-
SGD 1,180
Singapore to Nagoya via Manila
SGD 330
-
SGD 1,180
Singapore to Fukuoka via Manila
SGD 330
-
SGD 1,180
Singapore to Guam via Manila
SGD 350
-
SGD 820
Singapore to Sapporo via Manila
SGD 350
-
SGD 1,180
Singapore to London via Manila
SGD 400
-
SGD 2,750
Singapore to Dubai via Manila
SGD 450
-
SGD 2,097
Singapore to Honolulu via Manila
SGD 585
-
SGD 3,200
Singapore to Vancouver via Manila
SGD 585
-
SGD 4,200
Singapore to Toronto via Manila
SGD 585
-
SGD 3,680
Singapore to New York via Manila
SGD 585
-
SGD 4,350
Singapore to Los Angeles via Manila
SGD 650
-
SGD 3,380
Singapore to San Francisco via Manila
SGD 650
-
SGD 3,380
ONE-WAY BASE FARES
Flight Route
Economy Class
Fare from
Premium Class
Fare from
Business Class
Fare from
Singapore to Manila*
SGD 112
SGD 307
SGD 559
Singapore to Hong Kong via Manila
SGD 150
-
SGD 714
Singapore to Taipei via Manila
SGD 160
-
SGD 714
Singapore to Macau via Manila
SGD 180
-
SGD 714
Singapore to Tokyo (Narita) via Manila
SGD 240
-
SGD 830
Singapore to Tokyo (Haneda) via Manila
SGD 240
-
SGD 830
Singapore to Osaka via Manila
SGD 240
-
SGD 830
Singapore to Nagoya via Manila
SGD 240
-
SGD 830
Singapore to Fukuoka via Manila
SGD 240
-
SGD 830
Singapore to Guam via Manila
SGD 250
-
SGD 580
Singapore to Sapporo via Manila
SGD 250
-
SGD 830
Singapore to London via Manila
SGD 280
-
SGD 1,930
Singapore to Dubai via Manila
SGD 320
-
SGD 1,470
Singapore to Honolulu via Manila
SGD 410
-
SGD 2,240
Singapore to Vancouver via Manila
SGD 410
-
SGD 2,940
Singapore to Toronto via Manila
SGD 410
-
SGD 2,580
Singapore to New York via Manila
SGD 410
-
SGD 3,050
Singapore to Los Angeles via Manila
SGD 460
-
SGD 2,370
Singapore to San Francisco via Manila
SGD 460
-
SGD 2,370
*valid on PR508/507
**Minimum of 2 passengers , fare per passenger (must travel together in the same compartment)
Taxes may vary upon purchase of ticket

FARE CONDITIONS:
1. Seats are subject to availability.
2. Fares quoted are exclusive of government taxes, fees and surcharges. Taxes and charges are subject to change with or without prior notice by the authority.
3. Roundtrip fares from/to Manila, must have a minimum 2 passengers travelling together bothways.
4. Minimum/maximum stay for Economy is 2D/14D (MNL), 3M (JP/GUM), 3D/3M (US/CA/LHR) ; 2D/1M (MNL), 3M (JP) and 3D/3M (HNL) for Premium Economy; 3D/1M (MNL), 3M (JP/GUM) and 3D/3M (US/CA) for Business. For OW fares, minimum/maximum stay is not applicable.
5. MNL: Weekend surcharge on Outbound FR/SA/SU departures is USD20 for Economy, USD20 for Premium Economy and USD30 for Business.
6. No-show fee is SGD95.
7. Ticket is non-transferable.
8. Ticket is non-refundable for Economy. For Premium Economy, refund fee is SGD150 for totally unused tickets and SGD95 for partially used tickets. Business refund fee is SGD150 for totally unused tickets and non-refundable for partially used tickets.
9. For Economy Class, change fee is SGD170. For Premium Economy and Business, first rebooking is free of charge, succeeding changes at SGD75.
10. Accompanied child's fare is 75% of adult fare; Infant fare for infant without a seat under 2 years is 10% of adult fare.
11. 10% Mileage accrual for Economy, 100% for Premium Economy and 125% for Business.
12. Baggage Allowance - Fare is inclusive of 7-kg handcarried baggage. Free baggage allowance will vary per route.
13. Tickets issued online or outside of the Philippines does not include Philippine Travel Tax (PH tax). PH tax shall be paid directly at the airport before departure. PH tax is applicable to Philippine passport holders, foreigners holding a Philippine resident visa, and foreign tourists or expatriates who have stayed in the Philippines for more than one year.
14. Other travel conditions apply.

Check out Philippine Airlines for more details about this offer and to book your seats now!