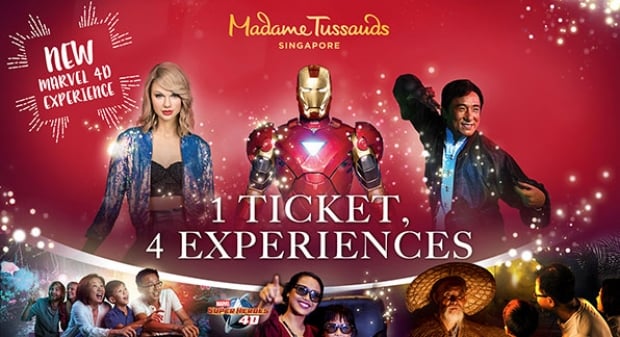 Be immersed at Madame Tussauds Singapore. Explore the history of Singapore LIVE. Grasp Singapore's greatness in thematic-sensory "Spirit of Singapore" boat ride. Experience stardom with Nicole Kidman at our exclusive A-list party and play soccer with Cristiano Ronaldo. Join the audition and rise to fame at the new Ultimate Film Star Experience, and get in on the action at Marvel 4D Experience.

Duration: From Now To 2020-05-31
Preferential range: UnionPay Platinum Card 、Diamond Card (card number starting with 62)

Activity content:
Save 20% off Full Experience ticket at Madame Tussauds Singapore when you purchase Full Experience Ticket (adult/child) with UnionPay Platinum/Diamond Cards

Activity Rules:
1. UnionPay cardholders (hereinafter "cardholder") are required to make payment by a valid UnionPay Premium card or Diamond card to enjoy the offer.
2. The offer is up to four (4) tickets per qualified UnionPay premium card.
3. Save for any another reason the offer were to be withdraw from the program, the valid date hereunder is from present to 2020/5/31.
4. The offer is only applicable upon Full Experience Ticket (adult/child), cannot be used in conjunction with other promotional offers, discounts or gift vouchers from the program participating merchant (hereinafter "merchant").
5. Unless otherwise expressly stated, all offers listed and/or mentioned are exclusive of all service charge, taxes and levies.
6. Merchants should take full responsibility for offer redemption and fulfilment. UnionPay will not be responsible for any damage or loss suffered by cardholders due to the service or product provided by the Merchant.

Exception Clause:
1. The terms and conditions of the promotion is applicable to the merchant. Details can be consulted from customer service staff.
2. UnionPay International is neither vendors nor service providers, thus UnionPay International is not responsible for the products or services provided by the merchant. Any obligations and liabilities relating to such products or services and all auxiliary services should be borne by the merchant.
3. UnionPay International and the merchant reserve the right to cancel, revise, suspend or terminate all or any parts of the promotion, or revise the terms and conditions herein contained, at any time without prior notice or reason. In case of any disputes, the decision of UnionPay International and the merchant shall be final and binding on all parties concerned.

Check out UnionPay Promotion for more details about this offer and to see all deals up for grabs!