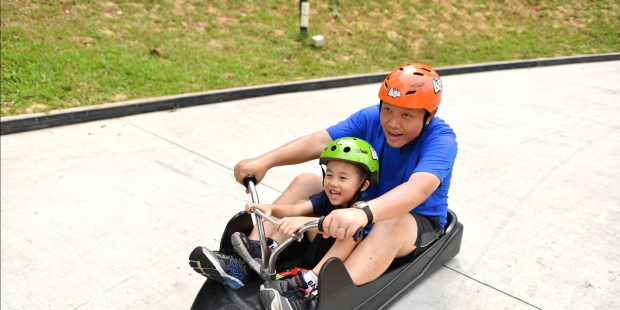 15% off ALL Family Packages!
Enjoy the ultimate family-friendly day out! Its the perfect activity for kids and big kids alike.
Step 1: Choose your family size.
Step 2: Choose the number of Luge rides.
Step 3: Enter discount code 'famluge15' when purchasing online to receive your 15% off!
PLUS Sentosa Island are offering FREE admission until 30th June!
We're also offering
15% off Luge License Memberships
- find out
more
.
A family package includes Luge rides and Skyrides with at least 1 family member below 16 years old.
Promotion valid 24th February to 31st March 2020
Age & Height Restrictions:
Skyride:
Min. height 85cm to ride with an adult.
Min. height 135cm to ride alone.
Luge:
Must be 6 years of age and 110cm or taller to ride Luge alone.
**Children under the age of 6 years can ride tandem with an adult.
**Child Doubling
Children under the age of 6 years or under the minimum height of 110cm can ride in tandem with a responsible adult.
Riders must meet our age, height and health restrictions to be able to ride the Luge & Skyride.