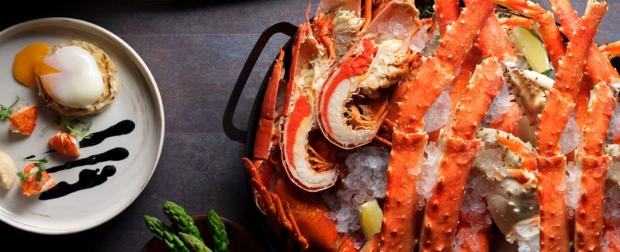 With a refreshed repertoire featuring an impressive line-up of over 70 International and Asian favourites, simply kick back, indulge and let our culinary team take your Sundays from zero to hero.
If you need more convincing, here are five other great reasons why you've got to check out Lime's Super Lunch Sundays:

1. It's the weekend, so take your time!
Super Lunch Sunday is a 3-hour gourmet adventure that runs from 12:30pm till 3:30pm. With sumptuously soft sofa seating to sink into, overlooking a beautiful tree-lined walkway, Lime provides the ideal backdrop for an intimate outing with a group of friends or a celebratory feast for the entire family.

2. Bring an appetite
Get your fill of succulent seafood, delicious meats and other indulgent treats – from cold cuts and gourmet cheeses to à la minute pasta and a resplendent roast repertoire featuring Beef Tomahawk, Slow Baked Boneless Lamb and Roasted Suckling Pig. There's also seafood on ice featuring King Crab and Lobsters, sitting alongside the ever-popular sushi and sashimi showcase.

Asian food aficionados can look forward to firing up their taste buds with the popular Black Pepper Crab, Salted Egg Tiger Prawns and Firecracker Diced Chicken. For something milder, try our Xiao Long Bao and Custard Buns, or relish in a comforting plate of Fried Carrot Cake.

3. Interactive dining experience
Over at the live stations, the performance stage is set for our chefs as they dish out unlimited servings of 65 Degree Sous-Vide Egg Benedict with Gourmet Sausage, Lime's Signature Laksa and Caramelised Foie Gras with Cherry Morello and Ginger Crumble.

4. Lavish desserts that will make your heart melt
It will be hard to miss the Matcha Chocolate Fondue Fountain as well as the various live dessert stations serving Torched Marshmallows and Cheesecake with White or Dark Chocolate Dips. It's a sweet reminder to save some space for the assortment of delectable treats such as Mini Magnum Ice Cream, Durian Pengat and the luscious Creme Brulee which will make you go weak in the knees.

5. Free flow fever
To elevate the experience, sign yourself up for the bottomless beverage upgrade which entitles you to unlimited servings of Prosecco, house wines and beers for three solid hours!
Lime's Super Sunday Lunch is available every Sunday from 12:30pm to 3:30pm at:

SGD88 per adult - includes unlimited servings of chilled juices, soft drinks, specialty coffee and tea
SGD146 per adult - includes unlimited servings of Prosecco, house wines, beers, chilled juices, soft drinks, specialty coffee and tea
SGD136 per adult - includes unlimited servings of house wines, beers, chilled juices, soft drinks, specialty coffee and tea
SGD44 per child (six - 12 years old) - includes unlimited servings of chilled juices and soft drinks


Terms and conditions
Prices quoted are in Singapore dollars and subject to 10% service charge and 7% goods and services tax.
Prior reservations are recommended.
Prices are not valid for special restaurant promotions such as unless otherwise stated.
Not valid with any existing card discounts and offers unless stated otherwise.
While Singapore has exited the circuit breaker, various restrictions are still in place and we will continue to suspend all dine-in reservations till further guidance from the local authorities.
Miss your favourite dishes from Lime? Check out our islandwide delivery options to enjoy dining from the comfort of your home.