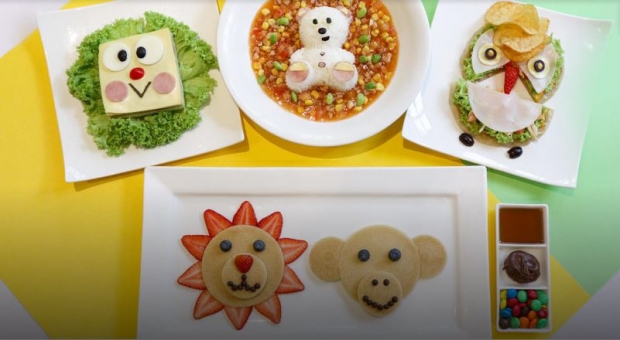 Quirky Faces Your Kids Will Love!
Meet our new quirky food characters at Coffee Lounge. Delicious and oh-so-adorable, they make for a captivating kids' meal!

Special Offer: For each adult with an order of main course*, buffet or set menu, one child (below 10 years of age) enjoys a complimentary "Quirky Face" dish!

These fun dishes are also available for order at $8.90 each.
#1 Mr Hooty Prata
Roti prata with chicken ham, shredded chicken, homemade curry mayonnaise, tomato, lettuce, cheddar cheese, olive, strawberry and potato chips
#2 Mr Rudolph Sandwich
Toasted white bread with ham, cheddar cheese, tomato, egg, blueberry, seaweed and lettuce
#3 Baby Bear
Minced chicken with white rice, edamame, corn, tomato, ham, cheddar cheese, olive and kidney bean
#4 and #5 Mrs Sunny Leo and Mr Cheeky Chimp
Pancakes with strawberries, blueberries, chocolate drops, maple syrup, Nutella and M&Ms