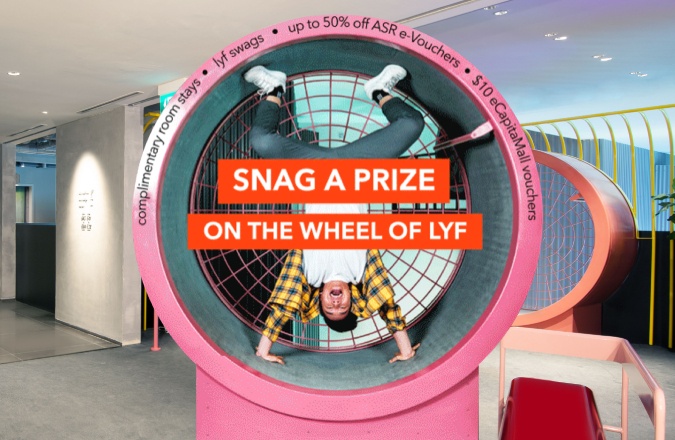 Wheel you be the lucky one? Get a free spin on our Wheel of lyf when you check in to lyf Funan Singapore from 1 December 2020 till 28 February 2021! No matter where you land, you'll win exclusive prizes such as lyf Merchandise, e-vouchers for up to 50% off your next stay with us, eCapitaMall vouchers, or even a whooping complimentary 3D2N stay at lyf Funan Singapore to experience lyf with us again!
Each booking made on our One of a kind, Up and Down, and lyf Style rooms entitles you to one free spin. One good turn deserves another, so book and check in to our One of a Kind plus, Two of a kind, or All Together apartments to receive an extra spin, for a total of two!
Terms and Conditions:
In order to participate in the Game, each Player will need to make a successful reservation at lyf Funan Singapore with check-in dated from 1 December 2020 to 28 February 2021
Every successful reservation with check-in from 1 December 2020 to 28 February 2021 will be eligible to one (1) spin per booking. Each booking for One of a Kind Plus, Two of a Kind and All Together apartment types for check-in from 1 December 2020 to 28 February 2021 will be entitled to one (1) additional spin chance per booking
Maximum spin chance will be limited up to two (2) times per booking
For the full list of Terms and Conditions, please refer here.